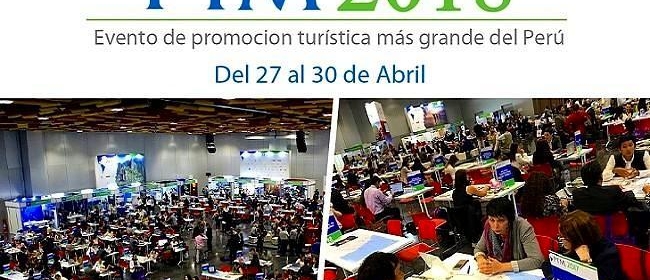 Four months left for the Peru Travel Mart 2018, but the great demand for participants is already noticeable. Currently, 91 tourism operators, including suppliers and buyers, have secured their participation for the most important tourism promotion event in the country, to be held from April 27 to 30.
According to the latest reports from the National Chamber of Tourism (Canatur), 43 national companies have already registered as suppliers of the destination Peru, who will offer the best tourist products from various regions of the country.
At the same time, 33 international companies have already registered as buyers and 15 will soon complete their registration. At the moment, the countries registered are: Argentina, Bolivia, Brazil, Colombia, Spain, France, Panama, Russia, South Africa, the United Kingdom and Venezuela, a list that will increase in the following months.
Peru Travel Mart (PTM) is the most important business road for the promotion of receptive tourism in the country. This annual event is organized jointly by the National Chamber of Tourism (Canatur) and PromPerú.

REGISTERED SUPPLIERS
At the moment, registered companies: Peru Inkasico, Lima Tours, Dika Travel, Hacienda Achamaqui House, Andean Gold, Sonesta Peru Hotels, BS Tours Peru, PTS Peru, Monte Amazónico Lodge, Tours Picaflor, Fairy Tours, Hotels Hacienda del Peru, Viña Tacama, Travel Group Peru, CTM Tours, Quimbaya Latin America, Estelar Hotels, Inkaterra and Casa Andina.
Also listed in the list: Amazon Muyuna Lodge, Barranco Republic House, Amazon River Expeditions, Amazon Explorama Lodges, Peru Tours Party, Explora, PeruRail, Life Adventures Travel, Inka Trail Expeditions Peru, Top Rank Hotel, Condor Travel, Peak DMC South America , View Peru & Signatures, Gaston Sacaze, Del Pilar Hotels, Travel 1 Tours and Ibis Hotels.
With their own stand: Viajes Pacífico, Libertador Hotels, Xima Hotels (Eco Inn), Viñas Queirolo Hotel, Bookingmotor by Carrusel, Aranwa Hotels and Marriott Peru.

MORE ABOUT PERÚ TRAVEL MART
Peru Travel Mart - PTM 2018 is the most important business road for the promotion and international marketing of Peruvian tourist destinations. Tour Operators, Wholesalers from different outbound markets for priority tourism for Perú, who will meet with tour operators, hotels, airlines, cruise ships, restaurants, transport, trains and other national companies.
It should be noted that the 2017 edition of the Perú Travel Mart, held in May of this year, achieved important results: more than 3 thousand commercial appointments were made, with a business potential of more than S /. 145 million, 10%, higher than recorded in 2016.
In addition, the PTM 2017 reached the record of 73% new international buyers interested in selling the destination Peru. Operators and wholesalers from Belgium, Portugal, Malaysia, Thailand and Vietnam participated in the event for the first time.
In total, 135 buyers attended, of which 36% came from South America, 23% from Europe, 16% from Asia, 15% from North America, 9% from Central America and the rest from Oceania. All expressed their satisfaction after attending the 2017 PTM.
REGISTRATIONS
Canatur informed that registrations are open until March 23, 2018, for national exhibitors interested in participating in the PTM 2018. For more information, contact Telf .: 715-5982 or email: registro1@perutravelmart.com.pe
The registration link for sellers is: http://www.perutravelmart.com.pe/en/registration/supplier